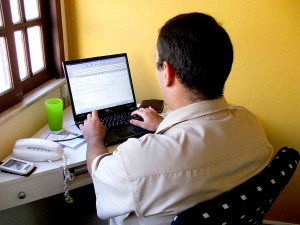 Counselling by Email Exchange can help you express yourself, develop understanding about your situation, find reassurance, and discover what to do if you feel confused. The service is private and you can write in your own time. I will generally send you a response within 72 hours unless I have advised you in advance that it may take longer.
Contact me about Email Counselling now
Email therapy and counselling can be helpful for online sex therapy, pornography 'addiction', 'sex addiction', mid-life crisis, burnout, sexuality counselling, coming out as gay or lesbian, adjustment difficulties, relationship issues, counselling after a relationship breakdown, therapy for family relationship problems or survivors of childhood abuse, motivational coaching and many other circumstances.
More about my work as an email counsellor, online therapist and web coach
Here is some information about how the email exchange service works. It is quite detailed to ensure the service works efficiently and effectively for both of us.
Email Exchange means we conduct a therapeutic exchange of emails where you can write in your own time and receive a response back from me. Each email you send to me + 1 one response from me to you = 1 exchange.
My experience is that Email Exchange works better when it is done as part of a series of exchanges, so you need to purchase the service in packages of 5 exchanges. You can write to me whenever you like but you have 5 months to use the package of 5 exchanges. Any exchanges not used in this time will be forfeited 5 months from the date of payment for the package.
I offer payment in many currencies. Please let me know your location (country) when you contact me and I will send you my fees in your currency. If you decide you would like to have a webcam or Instant Message appointment over Skype at any time, you can use 2 of the 5 exchanges to pay for a 1 hour webcam or Instant Message consultation.
Because this is a therapeutic service it is important to make a distinction between emails that are part of the exchange service and those that are not (e.g. when you are organising payment or arranging another service). So once we start with the Email Exchange service I will assume your emails require a therapeutic response unless you clearly indicate otherwise.
I use a word limit to manage the work around reading and responding and ask you to try to keep each email you send me to under 1000 words. For each response, I will send you at least 500 words in response, often more, but I charge according to the length of the email you send me, not what I send you. If you need to write more to me, I will regard emails longer than 1000 words as a multiple exchange (e.g. When you send me under 1000 words and I respond, that is regarded as 1 exchange. When you send me between 1000-2000 words and I respond, I will regard it as 2 exchanges etc). The word limit also encourages a focus on the most significant aspects of your circumstances.
I will always respond to your email within 72 hours unless I have told you in advance that it will take longer. I generally advise people with outstanding credit when I am taking holidays or unavailable.
Online services are not suitable for anyone requiring urgent assistance for problems such as domestic violence, sexual assault or where there is a high risk of self-harm. If any of these situations apply to you, you should contact the emergency department of your nearest public hospital or a GP service instead of using this service.
How to start:
If you decide to go ahead, contact me and I will send you a Paypal invoice. Paypal provides the security of a complaint service if you are concerned about making the purchase. You are welcome to start writing at any time and you will receive my response within 72 hours provided you have made payment.
Please get in touch with me if you have any questions, would like to know my fees or would like to start Email Counselling.
© Ash Rehn 2013